In her lifetime, one in eight women will be touched by breast cancer. The chances are greater as she gets older. Chances are, you know someone who has been affected by this disease. One in eight is one too many. But what can you do? You are just one person. You aren't a doctor or a scientist. You aren't rich. You could quite possibly be holding the cure in your fridge right now.
October is Breast Cancer Awareness Month. Once again Yoplait Yogurt is promoting Breast Cancer Awareness through the Save Lids to Save Lives campaign. For every pink lid you send in, Yoplait donates 10 cents to The Susan G. Komen Foundation, up to $1.5 million.
We have formed a team to collect these pink Yoplait lids to send in before December. If you eat this yogurt PLEASE do not throw the lids away. E-mail us and we can arrange to collect your lids or help you to send them in. You are also welcome to join our team. You can get more information for joining our team, "For All Moms", or for forming one of your own, at yourlidmatters.com
Please at the very least, show your support by signing our guest book. You can also leave a flower and a message to honor those in your life affected by breast cancer.
This is a very good cause and all it takes is that little pink lid; so many lives have been touched by breast cancer. Do you know eight women? One of them will fight this battle before her life is done. Because one in eight is still one too many when that woman is your friend, aunt, sister, mother or daughter, together we can eliminate this cancer in our lifetime.
$1,500,000 is a lot of money. It's 0verwhelming. It doesn't have to be. Just send in one lid. That's it! That's right! Just give $.10 to breast cancer research. Just imagine what could be accomplished if everyone who already eats this product just gave $.10; not such a big thing anymore, is it?
If you need information on how or where to send your lids please contact the email address below. If you have ideas for a lid drive in your community, tell us about it. You can leave your message in the comment section below or email clubmommoms@aol.com.
Even if you don't participate, make sure every woman you know knows her risk factors, does her self examinations and has an early detection plan in place.
An Early Breast Cancer Detection Plan should include:
Beginning at age 20: Perform monthly breast self-exams looking for any signs of change.
Age 20 to 39: Schedule clinical breast exams every three years.
By the age of 40: Have a baseline mammogram and annual clinical breast exams.
Ages 40 to 49: Having a mammogram every one to two years depending on previous findings.
Ages 50 and older: Having a mammogram every year.
— Maintain a healthy weight, follow a healthy diet, get regular exercise, don't smoke, and lower alcohol consumption.
Thanks,
For All Moms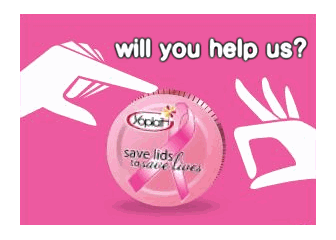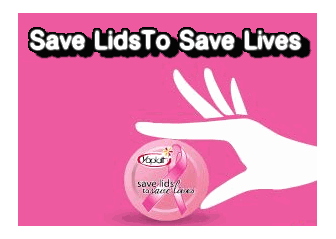 If this is your widget, log in to CafeMom to access additional controls.